UPDATE: sorry for misspelling of Mullally in previous version of this post
OK, time to start distributing BookExpo bounty.  Comment to claim.
How Do We Look (in both transitive and intransitive sense) is the latest gem from Mary Beard, whose SPQR Ancient Roman history has circulated over 270 times.  This one is shorter and focuses tightly, almost eccentrically, on particular relics, statues, and paintings and what they say about body and self image and views of art itself through time.  Though the emphasis is Western, Beard stretches herself to ponder Olmec stone heads, mosques shaped to look like artificial caves in Turkey, and Buddhist examples among others.
I rarely say anything negative about an ARC, but Nick Offerman and Megan Mullally's autobiography/love story/pseudo-script The Greatest Love Story Ever Told left me in cold disappointment, all the more so as I am an adoring fan of the comic acting work of both.  Talking about poignant childhood challenges and depressing life realities in the guise of a spontaneous riffing dialog between them (that no, just wasn't funny) didn't work for me.  Could someone claim and tell me I'm wrong please?  I'm considering a painfully restrained order but may be overreacting.
And another Jill Lepore These Truths.
Covers with publisher annotations: 
Conceived as a gorgeously illustrated accompaniment to "How Do We Look" and "The Eye of Faith," the famed Civilisations shows on PBS, renowned classicist Mary Beard has created this elegant volume on how we have looked at art. Focusing in Part I on the Olmec heads of early Mesoamerica, the colossal statues of the pharaoh Amenhotep III, and the nudes of classical Greece, Beard explores the power, hierarchy, and gender politics of the art of the ancient world, and explains how it came to define the so-called civilized world. In Part II, Beard chronicles some of the most breathtaking religious imagery ever made–whether at Angkor Wat, Ravenna, Venice, or in the art of Jewish and Islamic calligraphers– to show how all religions, ancient and modern, have faced irreconcilable problems in trying to picture the divine. With this classic volume, Beard redefines the Western-and male-centric legacies of Ernst Gombrich and Kenneth Clark.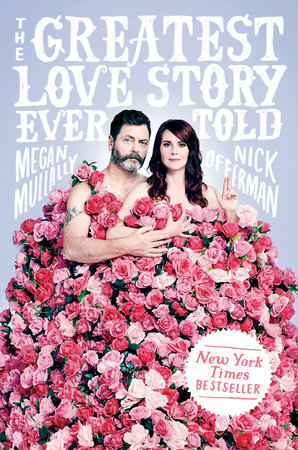 At last, the full story behind Megan Mullally and Nick Offerman's epic romance, including stories, portraits, and the occasional puzzle, all telling the smoldering tale that has fascinated Hollywood for over a decade. The year: 2000. The setting: Los Angeles. A gorgeous virtuoso of an actress had agreed to star in a random play, and a basement-dwelling scenic carpenter had said he would assay a supporting role in the selfsame pageant. At the first rehearsal, she surveyed her fellow cast members, as one does, determining if any of the men might qualify to provide her with a satisfying fling. Her gaze fell upon the carpenter, and like a bolt of lightning, the thought struck her: No dice. Moving on. Yet, unbeknownst to our protagonists, Cupid had merely set down his bow and picked up a rocket launcher. Then fired a love rocket (not a euphemism). The players were Megan Mullally and Nick Offerman, and the resulting romance, once it ignited, was . . . epic. Beyond epic. It resulted in a coupling that has endured to this day; a sizzling, perpetual tryst that has captivated the world with its kindness, athleticism, astonishingly low-brow humor, and true (fire emoji) passion. How did they do it? They came from completely different families, endured a significant age difference, and were separated by the gulf of several social strata. Megan loved books and art history; Nick loved hammers. But much more than these seemingly unsurpassable obstacles were the values they held in common: respect, decency, the ability to mention genitalia in almost any context, and an abiding obsession with the songs of Tom Waits. Eighteen years later, they're still very much in love, and have finally decided to reveal the philosophical mountains they have conquered, the lessons they've learned, mainly about finger-blasting, and the myriad jigsaw puzzles they've completed, in a book. Featuring anecdotes, hijinks, interviews, photos, and a veritable grab bag of tomfoolery, this is not only the intoxicating book that Mullally's and Offerman's fans have been waiting for, it might just hold the solution to the greatest threat facing our modern world: the single life.
Written in elegiac prose, Lepore's groundbreaking investigation places truth itself–a devotion to facts, proof, and evidence–at the center of the nation's history. The American experiment rests on three ideas–"these truths," Jefferson called them–political equality, natural rights, and the sovereignty of the people. And it rests, too, on a fearless dedication to inquiry, Lepore argues, because self-government depends on it. But has the nation, and democracy itself, delivered on that promise?These Truths tells this uniquely American story, beginning in 1492, asking whether the course of events over more than five centuries has proven the nation's truths, or belied them. To answer that question, Lepore traces the intertwined histories of American politics, law, journalism, and technology, from the colonial town meeting to the nineteenth-century party machine, from talk radio to twenty-first-century Internet polls, from Magna Carta to the Patriot Act, from the printing press to Facebook News.Along the way, Lepore's sovereign chronicle is filled with arresting sketches of both well-known and lesser-known Americans, from a parade of presidents and a rogues' gallery of political mischief makers to the intrepid leaders of protest movements, including Frederick Douglass, the famed abolitionist orator; William Jennings Bryan, the three-time presidential candidate and ultimately tragic populist; Pauli Murray, the visionary civil rights strategist; and Phyllis Schlafly, the uncredited architect of modern conservatism.Americans are descended from slaves and slave owners, from conquerors and the conquered, from immigrants and from people who have fought to end immigration. "A nation born in contradiction will fight forever over the meaning of its history," Lepore writes, but engaging in that struggle by studying the past is part of the work of citizenship. "The past is an inheritance, a gift and a burden," These Truths observes. "It can't be shirked. There's nothing for it but to get to know it."