This is the last ARC I have leftover from conference but we get many shipped to us as well so I'll try to keep going this summer.  Comment to claim.
Ganeshram, Ramin. The General's Cook. Arcade, November 6th.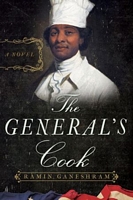 Publisher summary: Philadelphia 1793. Hercules, President George Washington's chef, is a fixture on the Philadelphia scene. He is famous for both his culinary prowess and for ruling his kitchen like a commanding general. He has his run of the city and earns twice the salary of an average American workingman. He wears beautiful clothes and attends the theater. But while valued by the Washingtons for his prowess in the kitchen and rewarded far over and above even white servants, Hercules is enslaved in a city where most black Americans are free. Even while he masterfully manages his kitchen and the lives of those in and around it, Hercules harbors secrets– including the fact that he is learning to read and that he is involved in a dangerous affair with Thelma, a mixed-race woman, who, passing as white, works as a companion to the daughter of one of Philadelphia's most prestigious families. Eventually Hercules' carefully crafted intrigues fall apart and he finds himself trapped by his circumstance and the will of George Washington. Based on actual historical events and people, The General's Cook, will thrill fans of The Hamilton Affair, as they follow Hercules' precarious and terrifying bid for freedom.
A couple of years ago Ganeshram's children's picture book A Birthday Cake for George Washington was pulled by publisher Scholastic, which explained :
While we have great respect for the integrity and scholarship of the author, illustrator, and editor, we believe that, without more historical background on the evils of slavery than this book for younger children can provide, the book may give a false impression of the reality of the lives of slaves and therefore should be withdrawn.
Ganeshram, who is Trinidadian and had researched this topic for years, gave her side to the story in a Guardian article , pointing out for instance that children's authors often have little opportunity to consult with their illustrators.  The General's Cook seems to be a different vehicle to tell the same story in perhaps more depth for an adult audience.  It will be interesting to see how it's received critically and by readers.