Focus on Media Tie-Ins – Sorry no ARC's of These
April 3, 2017
I'm trying to take a more proactive look at media tie-in editions and novelizations as they are (re)printed/republished.  In keeping with our current practice, I'm not designating these for the new shelf, though they might make excellent fodder for display if they're sitting in buildings.  If you have antennae for tie-ins, SINC's would be welcome.
Tie-ins present, as you know, some challenges as well as opportunities.  Publishers' and booksellers' desire to enhance and repackage is in tension with our need to keep essentially the same content in its tidy place. Sometimes the title even changes, as when Saroo Brierley's memoir A Long Way Home became Lion.  Often the cover features the movie's leads, depriving readers forever thereafter of their imaginative freedom.
Here are a couple examples from this week.  Both titles will be the only edition we own and should be in the catalog shortly.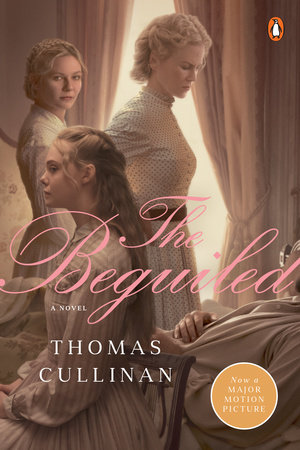 Cullinan, Thomas. The Beguiled. PRH, June.
The basis for the major motion picture starring Nicole Kidman, Colin Farrell, Kirsten Dunst, and Elle Fanning, and directed by Sofia Coppola, about women at a boarding school in Civil War-era Virginia who vie for the affections of a wounded Union soldier

When an injured Union soldier is found in the Virginia woods at the height of the Civil War, he is brought to the nearby Miss Martha Farnsworth Seminary for Young Ladies to recover. Up until then, the residents of the boarding school had been shielded by their domineering headmistress from both the violence of the war and contact with the outside world, but the arrival of the attractive John McBurney will upend all of their lives.
The Beguiled sweeps the reader into a world where Southern gentility is played out against the increasingly ominous forebodings of a dark tragedy, as Corporal McBurney pits the women against each other in a bid for freedom. Combining the romantic entertainment of the historical novel with the probing insight of a work of psychological suspense, it is an eerie novel of sexual tension and repression, and of rivalry, jealousy, and, ultimately, vengeance.
Golden, Christie. Valerian and the City of a Thousand Planets. Titan Books, July.
The official novelization of the blockbuster movie, written and directed by visionary Luc Besson (Lucy, The Fifth Element).
Valerian (Dane DeHaan) and Laureline (Cara Delevingne) are special operatives for the government of the human territories charged with maintaining order throughout the universe. Under directive from their Commander (Clive Owen), Valerian and Laureline embark on a mission to the breathtaking intergalactic city of Alpha, an ever-expanding metropolis comprised of thousands of different species from all four corners of the universe